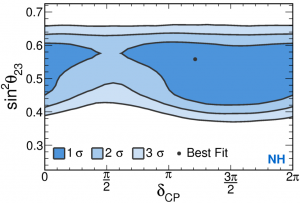 May 2018
We present updated results from the NOvA experiment for νμ→ νμ and νμ→ νe oscillations from an exposure of 8.85×1020 protons on target, which represents an increase of 46% compared to our previous publication. The results utilize significant improvements in both the simulations and analysis of the data. A joint fit to the data for νμ disappearance and νe appearance gives the best fit point as normal mass hierarchy, Δm232 = 2.44×10-3 eV2/c4, sin2θ23 = 0.56, and δCP = 1.21π. The 68.3% confidence intervals in the normal mass hierarchy are Δm232 ∈ [2.37,2.52]×10−3eV2/c4, sin2θ23 ∈ [0.43,0.51] ∪ [0.52,0.60], and δCP ∈ [0,0.12π] ∪ [0.91π,2π]. The inverted mass hierarchy is disfavored at the 95% confidence level for all choices of the other oscillation parameters.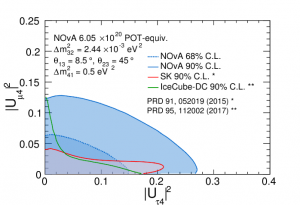 FERMILAB-PUB-17-198-ND
June 2017
We report results from the first search for sterile neutrinos mixing with active neutrinos through a reduction in the rate of neutral-current interactions over a baseline of 810 km between the NOvA detectors. Analyzing a 14-kton detector equivalent exposure of 6.05×1020 protons-on-target in the NuMI beam at Fermilab, we observe 95 neutral-current candidates at the Far Detector compared with 83.5 ± 9.7(stat.) ± 9.4(syst.) events predicted assuming mixing only occurs between active neutrino species. No evidence for νμ→ νs transitions is found. Interpreting these results within a 3+1 model, we place constraints on the mixing angles θ24 < 20.8∘ and θ34 < 31.2∘ at the 90% C.L. for 0.05 eV2 ≤ Δm241 ≤ 0.5 eV2, the range of mass splittings that produce no significant oscillations over the Near Detector baseline.